NVC Investment Pool Reaches $ 1.73 Million After Additional Funding Arrives; First place winner Andes STR gets $ 681,000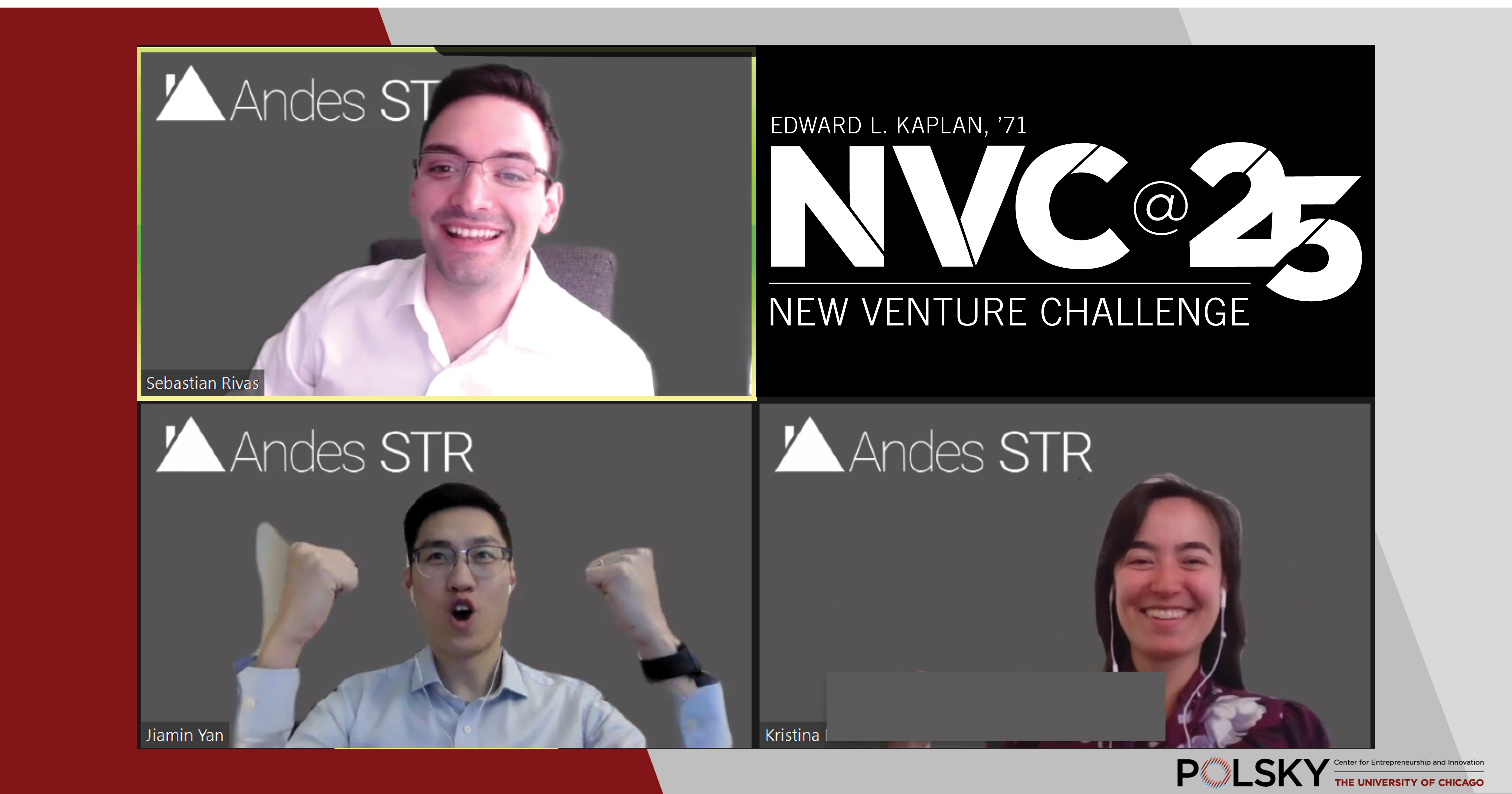 The record investment pool for the 25th Edward L. Kaplan, 1971, New Venture Challenge (NVC) jumped to $ 1.73 million this week after investors invested additional funds in the finalist teams.
The CNV prize, a program of the University of Chicago Booth School of Business which is run by the Polsky Center for Entrepreneurship and Innovation, is the country's largest among business school student startup competitions.
The 12 finalist teams received $ 1.6 million investment on the day of the final on June 3, a record for the competition and a significant increase from last year's total investment of $ 1 million .
Another $ 130,000 was donated over the following week, in part as a result of a Second Look event initiated at the request of investors who did not participate as final judges. Each of the 12 finalist teams was available Tuesday to answer questions from investors invited to attend Second Look.
Funding for startups participating in NVC has increased significantly in recent years. Just five years ago, NVC's investment pool was $ 285,000.
The 2021 winners, with their updated investment totals, are:
First place ($ 681,250): STR of the Andes is a modern property management company that provides people with a turnkey solution to buy, furnish and manage properties in the short-term rental market, giving clients more flexibility and higher returns. His investment includes the $ 180,000 Rattan L. Khosa, '79, first prize. (Team: Sebastian Rivas, Kristina Flathers, Matias Duhart and Jiamin Yan).
Second place ($ 388,750): phlaxis is a biotech platform that aims to fundamentally change the food allergy landscape with a new approach – a patented technology called a "reverse vaccine" to cure and prevent peanut allergies and other food allergies. The investment includes the Moonshot prize of $ 40,000. (Team: Jeffrey A. Hubbell, Shijie Cao, Hikaru Ihara and Josette Chang)
Third place ($ 203,750): Checked is an annual membership service that empowers pet parents to take control of their pet's health, guiding them through parenting at home, on the go, and at the vet. The prize includes the public's first prize of $ 5,000 from the competition. (Team: Maya Shaposhnik Cadena, Ashley Brooks, Dr Shelby Smyly, Geva Bidner, Greg Weiss, Delaney Wing, Seamus Naughton, Kealy Fitzsimmons and Lindsey Whitlock)
Fourth place ($ 96,250): Reset Custom blends makeup and skincare into one product to simplify routines and deliver personalized clothing with benefits. (Team: Whitney McElwain, Veena Krishnan, Anna Simmons, Sicely Mireri and Alana Giedraitis)
Fifth place ($ 95,000): Aina allows shoppers to virtually try on clothes directly from a retailer's website using augmented reality (AR) technology with features such as real-time view, size level accuracy, and interactive rendering of clothing. (Team: Nisha Saboo, Pritesh Kanani, Tess Glassman-Kaufman, and Shazia Ijaz)
Sixth place ($ 77,500) ML Tech is a High Frequency Trading (HFT) platform that connects crypto investors with top researchers around the world. The platform harnesses cutting-edge AI solutions and enables researchers to produce new strategies at a peak rate. (Team: Leo Mindyuk, Markus Leballeux, Aniruddha Deshpande, Ying Xu, John Wismer, Haoyang Wang, Ivan Khurudzhi, Amrutha Sivakumar, Mathew Kapela, Chloe Fu, Qi He and Yalin Yang)
Seventh place ($ 50,000) Annuity risk provides risk management solutions for indexed annuities, which represent a rapidly growing market. The platform aims to equip annuity providers with advanced tool sets for hedging, derivative valuation and machine learning for customer data analysis. (Team: Gaurav Singhal, Brian Klein, Charles Chong, Soo Jin Jeong, Paulo Andrade Blanc and Manik Pasricha)
Eighth place ($ 45,000): History Easel is a memory preservation platform that enables users to create, share and preserve precious family stories and memories with their friends and family. (Team: Niso Moyo, Tendaaishe Chitima, Manish Rahatkar, Mike Mokodanski, Chinzo Davaatseren, Mqondisi Ndlovu, Stephanie Regimbal, Sneha Vasudevan, Rayna Palsule, Simone Haradence and Ben Rachman)
Ninth place ($ 32,500) Pain Navigator is an evidence-based pain management app that provides a personalized holistic program to help people with chronic pain. The program includes exercise therapy, yoga, wellness strategies, and pain management education. (Team: Dr Ankur Dave, Dr Konstantinos Kostas, Kelly McKay, Priya Shah, Austin Bostock, Gandhi Bhakthavachalam and Elanda Goduni)
Three finalist teams each received a $ 20,000 investment. They are:
deetz, a mobile app for people to find out what's going on in their community right now and for businesses to promote specials and events.
Ping, a B2B, SaaS wearable technology company that focuses on safety, well-being and social connections for the elderly.
EVOLUTION, which makes nutritional supplements more convenient and enjoyable for women into their 40s and beyond by packing essential nutrients into one tasty bite.
NVC has always been rated as one of the best seed accelerators, alongside Techstars and Y Combinator, which is unique for a student-focused program. Unlike many of its peers, the NVC is both a Chicago Booth credited MBA course and a business plan competition.
Almost 370 companies that went through NVC are still active and thriving today, including well-known names such as Grubhub, Simple Mills, and Braintree / Venmo. They have raised more than $ 1.2 billion, completed $ 8.5 billion in mergers and exits, and created more than 13,300 jobs. More than half of those jobs – 7,550 – were created by Chicago-based companies.
Since its founding in 1996, the CNV has grown to include five separate tracks. The Edward L. Kaplan, '71, New Venture Challenge is open to all graduate students of the University of Chicago. The College New Venture Challenge (CNVC) is for undergraduates at the University of Chicago. The Global New Venture Challenge (GNVC) is aimed at MBA students from Chicago Booth campuses in Hong Kong and London as well as Chicago. The John Edwardson, '72, Social New Venture Challenge (SNVC) is aimed at nonprofits or startups with a social mission. And the Alumni New Venture Challenge (ANVC) is open to all University of Chicago alumni.