Japanese startups wow crowds with Flying Cars, AI Tech at CES 2022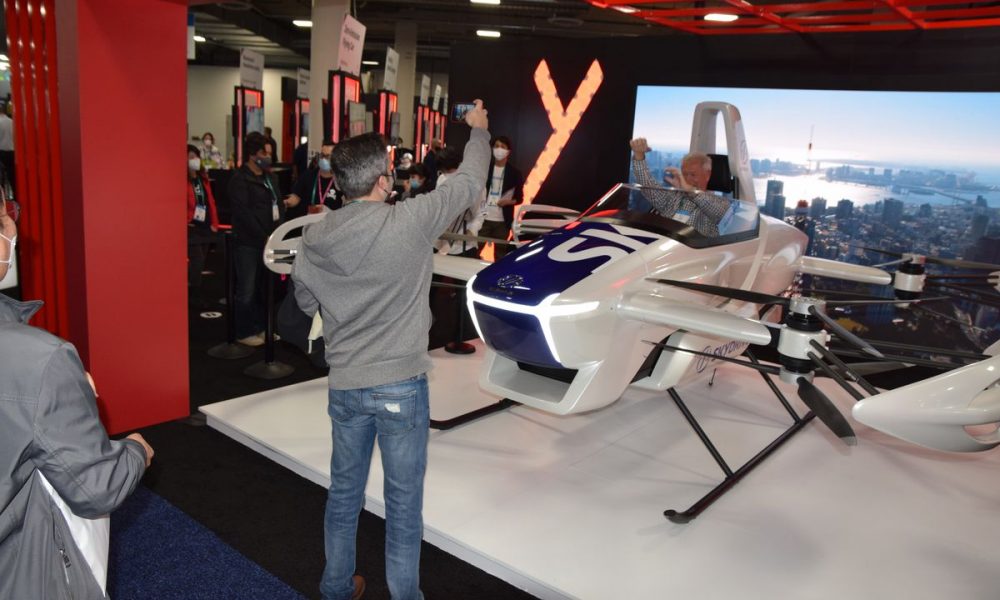 ~~
~
LAS VEGAS – The Consumer Electronics Show (CES), one of the world's largest consumer electronics and computer shows, was held January 5-7 in Las Vegas, Nevada. Many Japanese startups attended the event, showcasing a wide range of products from robots to airplanes and software, ready to face the burgeoning entrepreneurship of the US market.
The event attracted the attention of various media in the United States and Europe, but issues such as fundraising remain.
Crowds line up for the demonstration flight
As emerging companies from countries including France and Taiwan showcased their products on the site, crowds never seemed to stop at the Japanese storefront. Every day, visitors lined up for a demonstration flight aboard an aircraft presented by Tokyo-based company SkyDrive, a developer of vertical take-off and landing aircraft.
The Japan Foreign Trade Organization (JETRO) obtained a common place for the 50 participating Japanese companies. As the highlight of the show, SkyDrive's demo plane received international attention, including coverage by UK and US TV channels.
SkyDrive completed a successful test flight in 2020 and aims for commercialization in 2025. According to Keisuke Yasukochi of SkyDrive, they want to "market" the company to the US market, where they are looking to expand their business.
Following the recent re-emergence of the coronavirus, large companies such as Google have refrained from attending CES on-site. Meanwhile, the show has attracted up to 40,000 visitors and has seen an annual increase in the number of companies attending its venue for startups.
Fundraising in the United States
The United States is a startup power, and there is fierce competition among emerging companies. But CEO Shuichi Takada is determined to see his company win. His Osaka-based company ArchiTech develops AI and semiconductors and is particularly confident in the price competitiveness and wide range of applications of its products.
In the United States, a company that shows promising success in developing advanced technology will attract huge sums of money from investors, as venture capital investment is rampant. According to Takada, ArchiTech has raised funds in Japan before, but it "aims to raise capital in the United States," where the funds are much larger at every step.
Strong presence of South Korea and China
According to JETRO, comparing this year's attendance to the number of startups at CES 2021 by country, the United States tops the list, while South Korea was also heavily involved, followed by China.
In the past, Japanese electronics makers have lagged behind South Korean manufacturers, such as Samsung Electronics, who have adopted a strategy of concentrating in overseas markets. It now appears that Japanese startups need to look overseas as well – in the early stages of commercialization.
RELATED:
(Read it Sankei Shimbun report in japanese on this link.)
Author: Nagahisa Shiobara