"I want to innovate in diagnostics with the best AI technology in the world"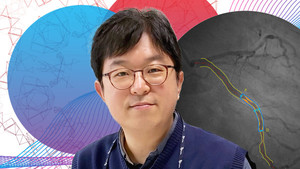 "I am a developer turned entrepreneur. I developed products that almost every Korean household used, such as AhnLab's V3 vaccine (anti-virus software). The same goes for the health sector. I know how to make a health product that every hospital will use. "
Song Kyo-seok, CEO of Medipixel, trusted his eyes, drawing blood vessels on a piece of paper to explain the company's medical diagnostic program.
In an interview with Korea Biomedical Review, he said he didn't want to appear cocky.
However, when asked about the company's technology, he said it was "the best in the world."
"Medipixel XA, an automated cardiovascular vessel analysis program, analyzes cardiovascular images in the shortest time with the best performance. I am sure our technology is the best in the world in this age, "Song said.
It takes only a second for Medipixel XA, software that uses deep learning, to detect cardiovascular contours and damage.
There is no need to manually designate the division range or perform a new operation for each lesion.
The program identifies major blood vessels and individual lesions located in branching blood vessels and recommends a custom stent. It plays its role of assistant device used in real time on the operation site.
"When using existing products, doctors had to wait three to five minutes for results after manually designating the segmentation range. So how can they use them in urgent surgery? These products were supposed to help with the operation but failed to get into the operating room, "Song said.
After hearing about these difficulties from surgeons, Song developed Medipixel XA with support from cardiologists at Asan Medical Center (AMC). Song's victory in the medical data analysis competition at CMA in 2017 helped him gain support from CMA.
"We have been incredibly lucky," Song recalled, saying that the AMC not only has a lot of accumulated data, but also annotation data, which is essential for supervised learning.
According to Song, the company could perform deep AI learning by securing more than 7,000 frames of fine-tuned cardiovascular intervention videos.
The lesion can be automatically recognized by the AI ​​and displayed as a quantified number per pixel. The company name "Medipixel" is also derived from it.
Medipixel is also working on a technology to automate navigation in the cardiovascular system where a guidewire automatically finds the legion.
Song predicted that AI technology would be prevalent in the robotic surgery market and got a head start.
Song explained that with general artificial intelligence, which predicts and reacts on its own outside the learning environment, the guidewire can be controlled in any direction you want in any direction. blood vessel.
"Current AI / deep learning technology focuses on diagnosis and prediction in the medical industry. But the demand for AI programs that specialize in treatment will increase as the robotic surgery market expands, "he said. "This is why our company focuses on 'procedural assistance'. "
How do clinicians respond to Medipixel XA? The program received certification from the Ministry of Food and Pharmaceutical Safety for medical devices in January. Hospitals in cooperation with Medipixel will start clinical trials in the second half of the year.
"Even those who were skeptical about it welcomed our prototype product after using it. The more it is introduced to clinical sites, the more enthusiastic their responses will be, "Song said.
"The reimbursement of AI medical devices must be considered from a prospective perspective"
Although Medipixel is taking steps to market the program, it still has a big challenge to solve: obtaining health insurance coverage for the program.
No AI medical devices approved by the Ministry of Food and Pharmaceutical Safety have been reimbursed so far.
Medipixel and other AI medical device developers fear that it will be extremely difficult to create a profitable model through reimbursement in Korea.
"Naturally, the government has to be careful about spending the health insurance budget, which comes from taxpayer money," Song said.
The United States and European countries with advanced AI technology deal with reimbursement issues using various approaches, he continued.
"What I want to suggest is that we can do the verification and a little more forward-looking," he said.
Specifically, Song suggested setting up a one or two year pilot project for products that are safe because they are not administered to the human body.
According to Song's proposal, if they can benefit patients and help reduce costs in clinical settings during the pilot, they can gain regulatory approval and reimbursement.
In this way, medical institutions have the opportunity to use new technologies and companies can accumulate clinical data, he said.
However, the discussion is going slowly in Korea. This is why AI medical device developers are looking for opportunities overseas.
Medipixel negotiates with cardiovascular imaging companies or surgical device companies to provide software embedded in medical devices. In the highly competitive medical device market, there is always a great demand for newer, faster and more accurate software.
"We have little leeway to break into the medical device industry but a lot of potential in the software industry. So this is a golden opportunity to take a leap forward in the global market, "Song said.
AI is part of life, the AI ​​developer goes global
Song stressed that people should not vaguely view AI technology as "next-generation future technology."
"AI is already around us. It's so natural that you don't even realize it. People in all medical fields are thinking about how to apply AI and what products to develop. This is not an optimistic view as a developer, but it is the reality, "he said.
Korea, which was a laggard in AI technology, has made rapid progress in just two or three years. Many companies boasted of technological power, and Korea has captured the attention of the global healthcare market.
Thanks to the country's progress in AI, Song holds an international conference call several times a week.
Medipixel attracted 6.5 billion won ($ 5.8 million) in investment on May 13. Previously, the Ministry of SMEs and Startups had designated Medipixel as "national representative of innovative companies".
Making the business international is part of Song's pursuit of happiness. If many people use the product he made with his own hands, it will make him happy as a developer and engineer, Song said.
"I hope that more healthcare professionals will be able to use our product and that more patients will be treated with our product. If that happens, I hope Medipixel could be a company that creates a better diagnostic and treatment environment. "