Homegrown startup Fringe raises $17M in capital to fuel expansion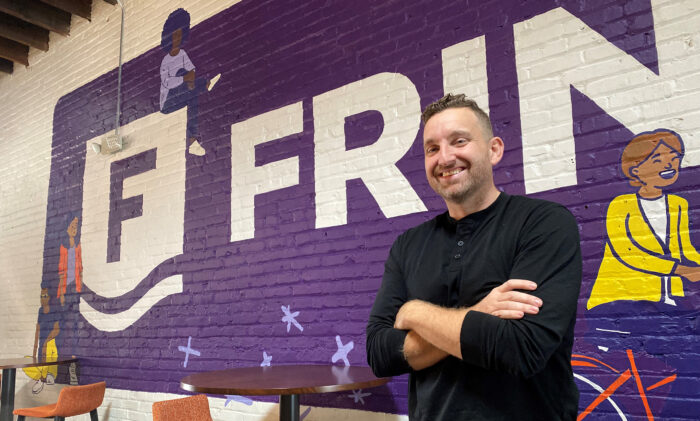 A Scott's Addition-based startup that offers a benefits marketplace for employee benefits closes its fourth year with eight figures in new money.
Fringe recently completed a fundraising round of $17 million, coinciding with its ongoing efforts to integrate its program into other major employer-facing companies and sell its service with them as co-branded online marketplaces.
One such co-branded venture is the so-called Wellbeing Marketplace launched in mid-September by Illinois-based benefits provider Alight using software from Fringe. Fringe is also piloting a similar program with payroll company ADP.
"The big shift in our business between last year and this year is focused on distribution partnerships, the first of which is Alight," said Fringe CEO and co-founder Jordan Peace. "Alight is huge. They have some really big, well-known clients, which is great. We were mostly swimming in the middle market.
Fringe also continues to operate its own benefits marketplace, where companies pay for their employees to access personalized benefit packages. Fringe currently has 200 companies in 60 countries paying for its services. Clients include education company Chegg, delivery company Shipt and insurance company Lemonade. The Fringe marketplace has 450 vendors, including Airbnb, Doordash, and Stitch Fix.
Peace said Fringe's decision to offer its services through other companies like Alight and ADP requires efforts at all levels to manage anticipated demand. This is where the new capital comes in.
"It requires some onboarding work on our part, some preparation for a flood of users that we want to be able to offer the same level of service that we offer now," Peace said. "It's really split between product, marketing and customer service."
Peace said the ADP pilot started in March and is still ongoing. The agreement with Alight was signed in September and the onboarding of Alight customers is underway.
He added that Fringe could reach profitability in 12 months.
Peace said Fringe originally sought further growth by selling its services to insurance brokers, but has had more success using software vendors.
"They turn out to be fantastic referral partners, but they're extremely decentralized," Peace said of the insurance brokers. "We spent 18 to 24 months learning that this is not the way to enter many businesses at once."
He added: "What (Fringe co-founder Isaiah Goodall) found is that we need to find companies that don't sell insurance, we need to find companies that sell a tech stack, like an ADP or an Alight. They also sell benefits, but above all they sell software. We log in and suddenly show up wherever their customers log into their software. »
If all things remain equal, Peace predicts that the cash injection could fuel operations for about two years. However, plans to hire more employees could alter this track.
Software engineers and marketers should be priorities for hiring. Peace said marketing is of great importance as the young company seeks to position itself as a leader in its industry.
"We need to make sure we're the thought leader in this new category, whatever you call it: lifestyle benefits, lifestyle services, or employee services," Peace said.
Fringe currently has around 80 employees (including around 40 based locally). While there's no specific hiring goal, Peace said the company could potentially double its total workforce by the end of next year.
Originally, Fringe was aiming for a slightly lower capital target when it began releasing information to investors in early February. Recent economic uncertainty and investor interest prompted an upward adjustment.
"I think when we started, I think we thought ($15 million) would serve us well. But with all the people wanting to participate, it was just a bit more in that environment, where we don't know what the future holds, (would be beneficial)," Peace said.
Still, Peace said, it was harder than expected to find investors, which he attributed to the impending potential for a recession.
"It was difficult with new people. Nobody wants to come first, which is always common in fundraisers," he said. "The scary part starts first and once you get a condition sheet and someone directs, the dominoes start falling. I think it was just a particularly terrifying time for the VC community.
The main investors in the round were Origin Ventures and Felton Group. Other investors included Sovereign's Capital, ManchesterStory Group, Revolution Rise of Rest and Anchormarck Holdings.
Fringe closed the capital increase in mid-September. Peace said that to date the company has raised approximately $22 million from investors. The company was launched in December 2018.
In April, Fringe opened its headquarters at 1717 Summit Ave. at Scott's Addition.